PROMPT SERVICES is a Lighting System integrator Company based at Ahmednagar, Maharashtra. It was formed in 1990 by an electronics engineer with the view to cater the industrial safety and energy conservation needs of Industrial houses.After promoting various industrial products for the period of 16 years. the group entered into manufacturing of energy efficient lighting systems.

"Eetamax" wants to emerge as most reliable name for energy efficient lighting systems. enhanced performance & customer satisfaction regarding lighting arrangements & get repeat business. We aim to increase customer awareness about quality of Light & Lighting energy efficiency. we shall achieve this through continual improvement in products processes & training of personnel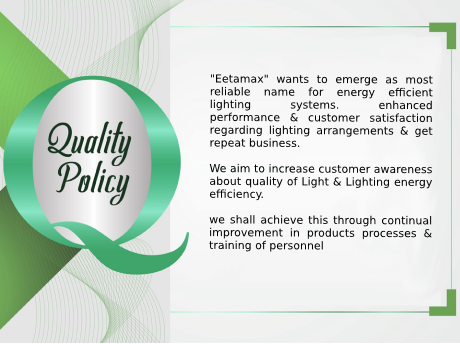 Unique Features of
'Eetamax'
Substantial Energy Saving 40 – 80 %
Improved Light Quality – Increased Employee Morale.
Dramatically Reduced Maintenance Cost.
No Warm Up / Restrike Time.
Longer Life Is @50000 Hrs. Better Lumen Maintenance
Reduces KVA Demand, Eliminating The Cost Of Adding More Power To The Utility When Installing New Equipment.
No Colour Shift.