Eetamax Multi LED Street Light
We are Manufacturer, Supplier and Exporter of Multi LED Street Light. This product is also known as Street Lights and our setup is situated in Ahmednagar, Maharashtra, India. We provide best quality LED Lightning solutions for Industries.


Eetamax LED Street Light is a BIS approved lighting solution for outdoor/Street lighting illumination. Eetamax Street lights are extremely reliable, robust, durable, maintenance free and have glare free light distribution. Street light is in pressure die cast LM6 aluminium housing and toughened glass covered with aluminium frame.


Features
Aesthetically elegant & Robust design
Cost Effective Product Range offering Extra Energy savings
Excellent thermal design for longer life
10kV Surge Protection and inbuilt Electronic Protections
Asymmetric Batwing Spread Lens for wider road coverage
Special lens for wider pole span
Applications
National / State Highways
Industrial Roads
Important Roadways
Secondary Roads
Residential Aeas
Parking areas
Open Spaces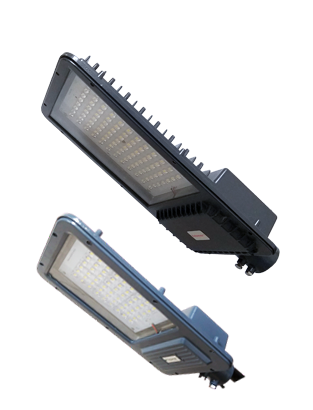 Mechanical Specification

Fixture Housing

LM6 Aluminium Alloy PDC for optimum thermal managemen

Diffuser Closure

Polycarbonate Lens

Mounting Arrangement

Suitable for pole mounting with bracket arm
For 30W to 40W - 32-36 mm OD
For 50W to 200W - 42-48 mm OD

IP & IK

IP66 & IK08

Luminaire Specification
Available Variants
30W / 40W / 50W / 60W / 70W / 80W / 100W / 120W / 150W / 180W / 200W
L70 Life
>54,000 Br. hrs

Operating Temperature

From-20° to +50°C

LED Chip

Light Source

High Power SMD LED Chip

Lamp Efficacy

>160 lm/W

Colour Temperature

3000K - 6500K
CRI
>70
Certification / Report

LM80, Photo Biologically Safe
LED Driver Specification

Type of Driver

Constant Current

Input Voltage Range

30W to 100W - 150VAC ~ 265 VAC

120W to 200W - 100VAC ~ 305 VAC

Frequency Range

50 Hz / 60 Hz

Power factor
> 0.97
Total Harmonic Distortion
< 10 %
Surge Protection
4 kV + 10 kV External SPD
Protection
Surge Protection
Output Short Circuit Overload Protection
Over Voltage Protection
Thermal Protection
Mis - Wiring Protection
440 VAC protection

Optics
Beam Angle
Asymmetric wide angle batwing sprade for wide coverage on road & uniform glare free lighting
Optics Type
High efficiency PC / PMMA lens to ensure asymmetrical batwing light distribution
---
AVIRA STANDARD PARAMETERS
Sr.

System Wattage

(W)

Lumens

Package

(lm)

System Efficacy

(Lm/W)

Length

(mm)

Width

(mm)

Weight (Kg)

Model

1

30W

3600 lm

120 lm/W

255 mm

183 mm

2.5 Kg

EELS 30W ML SL

2

40W

4800 lm

120 lm/W

EELS 40W ML SL

3

50W

6500 lm

130 m/W

340 mm

194 mm

3.5 Kg

EELS 50W ML SL + SPD

4

60W

7200 lm

120 lm/W

EELS 60W ML SL + SPD

5

72W

8640 lm

120 lm/W

530mm

260 mm

4.5 Kg

EELS 72W ML SL + SPD

6

80W

10000 lm

125 lm/W

EELS 80W ML SL + SPD

7

90W

11250 lm

125 lm/W

EELS 90W ML SL + SPD

8

100W

12000 lm

120 lm/W

EELS 100W ML SL + SPD

9

120W

14400 lm

120 lm/W

EELS 120W ML SL + SPD

10

150W

18000 lm

120 lm/W

EELS 150W ML SL + SPD

11

180W

21600 lm

120 lm/W

EELS 180W ML SL + SPD

12

200W

24000lm

120 lm/W

EELS 200W ML SL +SPD